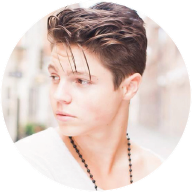 Send request
Just get more info, send a request, or hire now!
A REAL DRUMMER FOR YOUR POP, ROCK OR METAL-PROJECT.
DRUM SETUP
• 22×18 BASS DRUM. (RF2218BX/C)
• 14×5 SNARE DRUM. (CHAD SMITH SIGNATURE CS1450)
• 12×9 TOM. (RF1209T/C)
• 14×14 FLOOR TOM. (RF1414F/C)
• 16×16 FLOOR TOM. (RF1616F/C)
• PEARL RFP 22"X16"BD A SABIAN HHX 18" CRASH
• PEARL RFP 12"X8"RT B SABIAN HHX 19" CRASH
• PEARL RFP 13"X9"RT C SABIAN AA CHINESE 22" CHINA
• PEARL RFP 16"X16"FT D SABIAN AA ROCKRIDE 20"
• PEARL RFP 18"X16"FT E SABIAN HHX 20" CRASH
• PEARL RFP 14"X 6,5" SD F SABIAN AA MEDIUM 14" HIHAT
MICROPHONES
• KICK: SM57 + AKG D112
• SNARE: SM57 OVER AND UNDER
• HIHAT:
• OVERHEAD: 2 X AKG C414
• TOMS: SENNHEISER 421
Gabriel Gomér was born 1996 in Gothenburg, Sweden. Started playing drums at young age and studied drums at Rytmus.
He joined the international band Over Atlantic from the UK/US/Sweden, and in 2016 the band went to the US and GB for five months of production and shows.
Gabriel has also made successful drum covers of different artists like Justin Bieber, Shawn Mendes, and Bring Me The Horizon, on YouTube, whith over 150 000 views. Gabriel's work with Over Atlantic feat. Rajiv Dhall, has over 400 000 views and climbing.